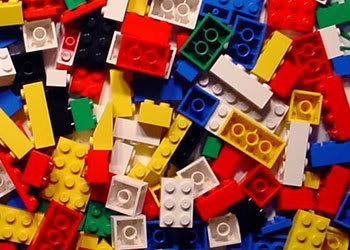 Legos: When I was growing up, I wanted to be an architect (for part of the time…I also wanted to be a teacher, veterinarian, astronaut and teacher. Possibly other things too but I don't recall.) I told my mom and dad that I wanted to be an architect and I would make models of buildings for clients out of legos. I really liked legos. I think legos are thought to be a boys toy but I didn't care. I loved putting together the models. Now little monkey got some duplo legos for Christmas. I'm hoping that when he's big enough, he will like the regular legos too. Then we can spend days putting together models of buildings, cars, planes, etc.
Leftovers: I strongly dislike eating leftovers. I will do it, sometimes, but in most cases it's not going to happen. I have to eat it immediately, like the following day's lunch or maybe the next day's dinner. Needless to say, even though I am saying it, we throw out a lot of leftovers. We almost always cook where we know we will end up with leftovers. I've tried to get better at eating leftovers but it's hard. Maybe I can donate my leftovers to some charitable cause!
Lake Mary: From the time I was in 8th grade, I lived in Lake Mary until I went to college. Some folks in our area, (ie: people who didn't live in or go to LM) thought that all the kids who did were rich and spoiled. Now this was not the case for everyone. But many were one or the other or both. For the most part though, the kids in LM were from middle class families. Anyhow-I liked Lake Mary. Everything was very close together. (We had like 5 Targets within 20 min of my house!) Now that we live in Lake County….well things are quite a bit more spread out. The problem of course is that there are like a million lakes in our county and maybe only one that has a bridge over it. So anywhere you want to go requires you to take a roundabout way to get there to get around all the lakes.