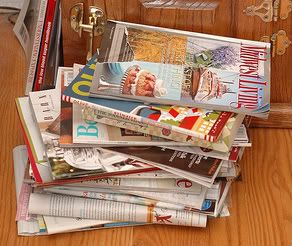 Magazines: I really like magazines. Okay that might be an understatement if you see how many magazines we get! The good news is that I've only paid for one of them. Two subscriptions were gifts and the rest I got free online. Companies love to give away magazine subscriptions…and I love to take advantage of that. I only sign up for ones that do not require any credit info and also that state I will not have to cancel and will not receive a bill. So far I have had no problems with that. I'll try and name off some of the magazines we get. I know I will miss some…because we really do get that many! Okay here goes:  All You, Wondertime, Psychology Today, Hallmark, Family Fun, Self, Elle Decor, Cookie, Parents, Redbook, Everyday Food, Lucky, Marie Claire, Pink, Shape……there are more…but I can't think of them right now. You can see though just right there, we have 15 subscriptions…and that's not all of them. I am usually very good about passing them on to others to read also.
Make-up: I do believe that make-up is good, needed for some people, generally a waste of money. Now I say this because I do not wear make-up unless it is a necessity and even then it better be good. I did wear make-up for my wedding as well as in high school when we performed on stage. Other than that I just don't see the point. I don't have the time or energy or desire to spending time putting on make-up. Does it make me look nicer and more put together when I do have it on? Sure but not enough for me to want to spend time everyday doing it.  If you wear make-up that's fine with me, as long as you don't go too overboard….you know who I mean. Those folks you see at the grocery store that are so done up its crazy and you wonder if they ever looked in the mirror before leaving the house.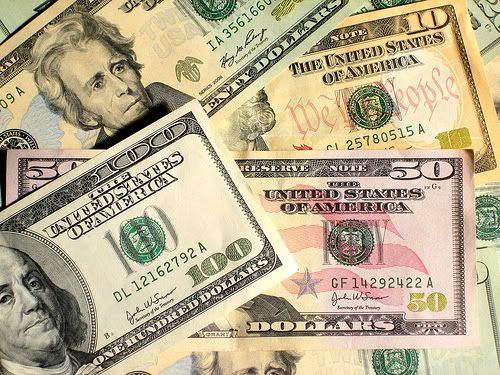 Money: Money is on everyone's mind at some point every day. It is particularly on my mind today because I started our federal tax return. We are of course hoping for a refund (yes I know it's bad to provide an interest free loan to the government but we would have already spent it otherwise!) and so far it looks like we will be receiving a decently sized return. This is good news for us as we really want to rip out the carpet and linoleum from our house and put down tile except in the bedrooms. We will likely recarpet the bedrooms. So I of course am very interested to see how much money will return to us to get this project on the road. Aside from taxes though, money is of course important in our world (quite likely too important) but it is needed. I do not think people need to have millions and millions of dollars, but you do need to be able to have the essentials-roof over your head, clothes to wear and food to eat- and of course it would be nice to have some added luxuries that many people today think of as necessities. So while you may want to have tons of money, buy some name brand clothes, live in a huge house with a maid and have lobster and steak for dinner every night…for most of us that's not going to happen. And it doesn't need to. So quit comparing yourself to the Jones' or movie stars or whomever you wish you were more like and be content with what you have been given. I know it's easier said than done, but life is about so much more than the money in our bank accounts, the square footage of our houses or the brand of car we drive.