Thanks to having some folks click through my Cash 4 Books Review, I had some extra money in my Paypal account. And when I saw that Christmas day was another Random Shirt Day on shirt.woot.com, I couldn't help myself! I have to say that I did tell myself that if I got another bad shirt, like last time, that I would not longer be ordering during Random Shirt Day. Well the folks that work for woot must have known that and they sent me a shirt that I do like!
I got the shirt you see below. It is called, "Jimmy…Is That You?"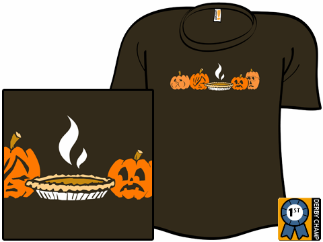 I think it is a funny shirt and while it is probably best suited for Thanksgiving but I do plan to wear it before then. I have even worn the bad shirt too! If you would like to see the other shirts I have gotten from woot, you can click on each of these links: The Night Shift, Eight Fists of Death,  and The Nation In My Head Is Inside My Mouth.